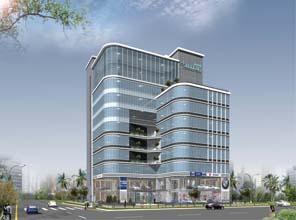 QUANTUM SILIGURI, an ICONIC Building approved and allotted by Siliguri Jalpaiguri Development Authority. It will be a gateway to Bengal for all potential clients from around the globe. The complex is strategically located on the main National Highway 31 which is free of pollution and is a 5 minute drive to down town Siliguri.

Our area of concern was to be able to offer space that is both user friendly and cost effective.

Our planning allows the customer to determine and access the infrastructure as per his need and timing.

The structure has a load bearing capacity of upto 500 kg per m2 with high floor to ceilng height measuring 4.0 m and with very few columns thereby allowing the user to easily plan his office with least of structural obstruction.

Our Goal is to build an architectural marvel, a structure which is remembered for generations and which is the pride of Siliguri. We would strive for building the structure with the following elements as its salient features

Energy Efficient.
Excellence in architectural design.
Adequate power backup.
Fire Safety and Security as per International Standards.
24 hour connectivity.
Exclusive Granite / Marble floors with eye catching murals and decor in the lobbies.
Adequate provision for installing satellite and microwave towers on the roof.
Ample covered and open car parking space.
Suitable infrastructure to ensure 24 hour operation.
All equipments and materials used are of the highest standards.
Facilities:

Electricity:
Adequate availability of quality power
LT panel with appropriate power factor correction
Adequate earthing provisions for total protection of equipment

Power Back up:
Adequate power back up through DG sets (housed in acoustically treated enclosures) with automatic change over on failure of main power

Electricals:
Office areas shall be provided with a sub Metre and wiring till the main DB
All common internal electrical wiring shall be of copper
All common installations shall be of the highest standards to ensure trouble free operations

Lifts:
Two KONE make Gearless, High Speed, Fully automatic, stainless steel, Passenger Lift with variable voltage and frequency technology
One KONE make Gearless, Fully automatic, Stainless Steel, Service lift with variable voltage and frequency technology

Water:
24 hours water supply from deep tubewell

Fire Safety:
Underground water reservoir of 2,00,000 litres and overhead tank of 25,000 liters exclusively for fire fighting
Wet riser in the main staircase
Hydrants surrounding the building
Fire pumps and jockey pump to keep the system in pressurized condition
Sprinkler system in each office and in the common areas
Auto intelligent analogues fire detection system shall be installed for detection of fire
Emergency warning through hooters/announcement

Public Adress System:
Public address system with speakers in common areas
Provision for public announcements during emergency or other eventualities
PA system to play background music during normal conditions in selected zones viz. lobbies, lift, etc.

Landscaping:
Landscaped open areas providing an international ambiance

Civil Specificaton:

Outer facade:
Reflective glass Curtain wall with Glass Conopy and metal cladding

Super structure of Quantum Siliguri:
RCC framed cement structure
Load bearing capacity of upto 500 kg per m2
Floor to floor height of 4.0 m with large column free space
Earthquake proofing for main structure as per National Building code

Flooring:
Main entrance lobby: Designer Flooring of Granite / vitrified tiles
Lobby of all floors: Granite / vitrified tiles
Staircase: Kota stone
Office areas: Vitrified Tiles / IPS
Toilets & pantry: Marble / vitrified tiles

Wall treatment:
Main entrance lobby: Wooden paneling / tiles / paint / granite
Office areas: Treated with POP
Toilets & pantry: Tiles / paint

Door:
Main entrance lobby: Glass swing door
Office main door: Rolling shutter
Toilets & pantry: Wooden flush door

Windows:
Aluminium sliding / casement

Toilets:
All fittings and fixtures of standard make